Triple success at Insider's Northern Ireland Dealmakers Awards 2018
Tughans has celebrated triple success at Insider's Northern Ireland Dealmakers Awards 2018.  Corporate partner Ciara Lagan won the title 'Dealmaker of the Year' whilst two of Tughans' major corporate deals lifted the winner's accolade in the Private Equity / Venture Capital Deal of the Year and the Deal of the Year (£2.5m – £10m) categories.
Ciara Lagan's client commitment and attention to detail in delivering significant deals was recognised with the title "Dealmaker of the Year".  Over the last year Ciara has advised on deals totalling over £100 million, including the sale of Vita Liberata Ltd – a high-profile sale of NI-developed award winning global brand to a US private equity backed group.  She also led the team advising B-Secur Ltd on a  £3.5m investment and acted for Invest NI on the establishment of a £50m co-investment fund.
Tughans corporate team led by Senior Partner John George Willis, were involved in two of the winning deals.  The investment by Business Growth Fund, First Derivatives and Invest NI in Auditcomply Ltd attracted the judges as an example of investors bringing more than just money to the table.  Tughans acted for Auditcomply Ltd and the deal was named Private Equity/Venture Capital Deal of the Year.
A deal which resulted in Northern Ireland's only listing on the London Stock Exchange (Alternative Investment Market) in the last two years was declared Deal of the Year (£2.5m-£10m).  Tughans guided client Fusion Antibodies through what the judges described as "a complex deal involving more than 100 shareholders," but also, "a significant one as it proves that smaller Northern Ireland businesses can attract institutional and other investors therefore providing an impressive template for others to follow."
Tughans winning corporate deals were both completed by corporate partner John McGuckian, himself a former winner of Young Dealmaker of the Year and shortlisted this year in the Dealmaker category.
The Insider Northern Ireland Dealmakers Awards recognised the region's top corporate finance professionals, funders and lawyers.  Shortlists for each category are drawn up by an independent judging panel and based on votes cast by business professionals.
Patrick Brown, Managing Partner, Tughans said, "We are delighted to win these prestigious awards, which along with our success in topping the Experian Deal and Advisor League Table three years in a row, provide independent endorsement and peer recognition of the market leading strength of our corporate team.  The team acted in sixty per cent of all the deals shortlisted in this year's Dealmakers Awards, while throughout the firm our lawyers have acted for high-profile clients such as Apple Inc. and Bank of America and advised on high-profile matters – including the recent trade dispute between Bombardier and The US Department of Commerce.
We are also very proud of Ciara winning the "Dealmaker" title which is public recognition of her talent as a leading corporate lawyer and the central role she has played in many significant transactions.  Together these accolades are testament to the dedication and professionalism of our team demonstrating the value of the strategic advice given to our clients to complete landmark deals."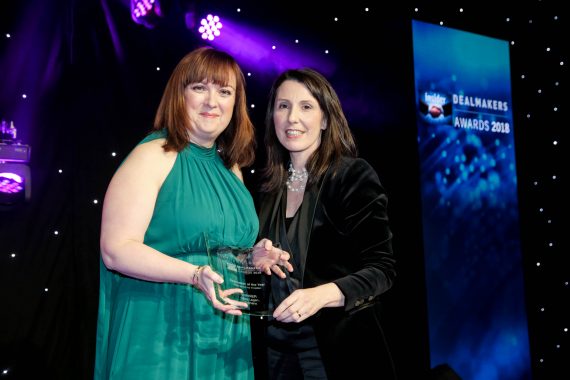 Ciara Lagan, Tughans pictured with Leigh Yeaman, Investment Director from category sponsors Investec.