David Humphreys and Tughans Celebrate Charity Teamwork
Thank you to everyone who helped our Tughans' Million Makers Team raise an amazing £18,500 for The Prince's Trust.
Eighteen members of Tughans' staff formed 'Team Aequitas' and worked closely together over a period of eight months to produce 'The Ulster Rugby Calendar 2012' which was sold in many outlets throughout Northern Ireland. The team also promoted and sold the calendars via social-media and direct to fans at Ulster Rugby's home games.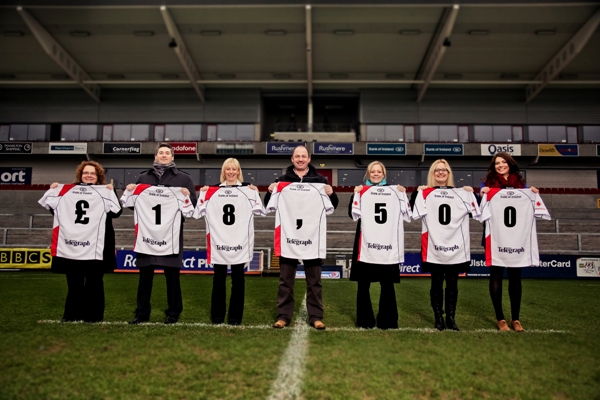 The team is delighted to have raised £18,500 for The Prince's Trust to help with its invaluable work with disadvantaged young people in Northern Ireland.
Although challenging, the team found the competition both great fun and rewarding. Barbara Creed, team leader said 'the project was a great team building exercise which was made extremely gratifying by its charitable nature.'
Members of the team would in particular like to thank the players, sponsors, retailers, Ulster Rugby, Cornerflag Management, Tughans and Red Sky Photography for their huge efforts and support throughout the competition.
Pictured above are some members of the Aequitas team. L— R, Yvonne Bell, David Jones, Arlene Creighton (The Prince's Trust), David Humphreys (Ulster Rugby), Barbara Creed, Lucy Lewis (The Prince's Trust), and Karen McMinnis.