Dublin headquartered Broadlake sells its majority stake in Ballyclare based skincare company Vita Liberata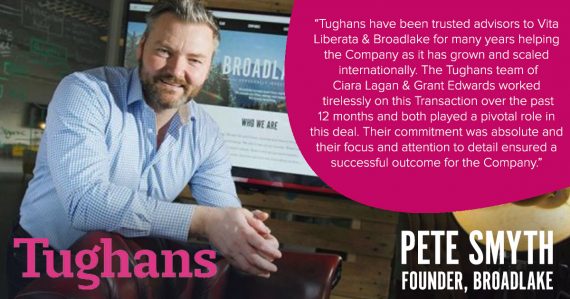 Vita Liberata, the international skincare and self-tan brand, has been acquired by US based Crown Laboratories Inc., a fully-integrated specialty pharmaceutical company focused in dermatology with the backing of New York private investment firm Hildred Capital Partners.
Broadlake is a private investment company that typically invests €2-10m in established and growing businesses. Broadlake invested in Vita Liberata in 2012 to accelerate the international growth of the business, supporting its successful expansion into the North American market.
"We backed an ambitious team in 2012 and over the last five years have supported them during a period of phenomenal growth.  Over this time the company has successfully developed its product ranges, brands, channels and international reach.  We view Crown as an ideal partner to support the company on the next stage of its growth and development.  We wish the Vita Liberata team every success in the future," said Pete Smyth, Broadlake Founder and Chief Executive.
Tughans served as legal advisors.  "Tughans have been trusted advisors to Vita Liberata and Broadlake for many years helping the company as it has grown and scaled internationally. The Tughans team led by Ciara Lagan and Grant Edwards worked tirelessly on this transaction over the past 12 months and both played a pivotal role in this deal. Their commitment was absolute and their focus and attention to detail ensured a successful outcome for the company," continued Mr Smyth.
Founded in 2003 by EY Entrepreneur of the Year finalist Alyson Hogg, Vita Liberata was the first completely non-toxic tanning brand, with a collection of odourless products free from parabens, perfume and alcohol.  Vita Liberata products employ the company's proprietary Advoganic™ Technology, which combines cutting edge skin chemistry with highly potent organic botanicals. The technology fully releases the premium ingredients' potential, enabling skincare benefits that are superior to those found in formulas using traditional cosmetic chemicals.
The brand has a powerful celebrity fanbase which include Hollywood icons Emma Watson, Sofia Vergara and Alicia Keys. Vita Liberata's award-winning collection is sold in premium retailers across the US and Europe, and it is the self-tanner of choice for the world's top spas including George V Paris, St Regis, Viceroy, Ritz-Carlton and Burj Al Arab.  Ms. Hogg will stay on as President of Consumer Brands for Crown Laboratories.
"Crown and Hildred have a genuine understanding of the suncare market and a very impressive vision for the Vita Liberata brand. We are thrilled to partner with them to leverage Crown's strong positioning within the dermatology space and advance our mission of making self-tanning a viable alternative to sun exposure for all," said Alyson Hogg.
"We believe the Vita Liberata product line and its strength in premium retail is a terrific complement to Crown's Blue Lizard sunscreen brand and builds on Crown's consumer healthcare products strategy in the dermatology space," said Jeff Bedard, Crown Laboratories President and CEO. "Alyson and her entire team have done a remarkable job disrupting the self-tanning space, and we look forward to welcoming them to the Crown family. We will work together to continue to provide high-quality products that are at the forefront of skincare innovation."
"Hildred's goal for Crown is to build value by providing the company with the flexibility needed to foster organic growth," said Hildred Partner, David Solomon. "With a distinctive portfolio and an impressive track record of growth, Vita Liberata is a very exciting opportunity and a natural fit with Crown."