Local Legends Assemble for Mental Health Charity's 'Question of Sport' Event
Mental Health carers charity 'CAUSE' is hosting a prestigious 'Question of Sport' event at Crumlin Road Gaol on the 5th of March from 7pm.
The event will be attended by local sports stars and TV personalities including; MBE Olympic medal winning boxer Paddy Barnes, ex-Ulster and Ireland Rugby star Paddy Wallace, Ulster and Ireland female Rugby star Grace Davitt, two time All-Ireland winner and Tyrone legend Peter Canavan, ex-Northern Ireland international and current Linfield manager Warren Feeney, and BBC's very own sports presenter Stephen Watson.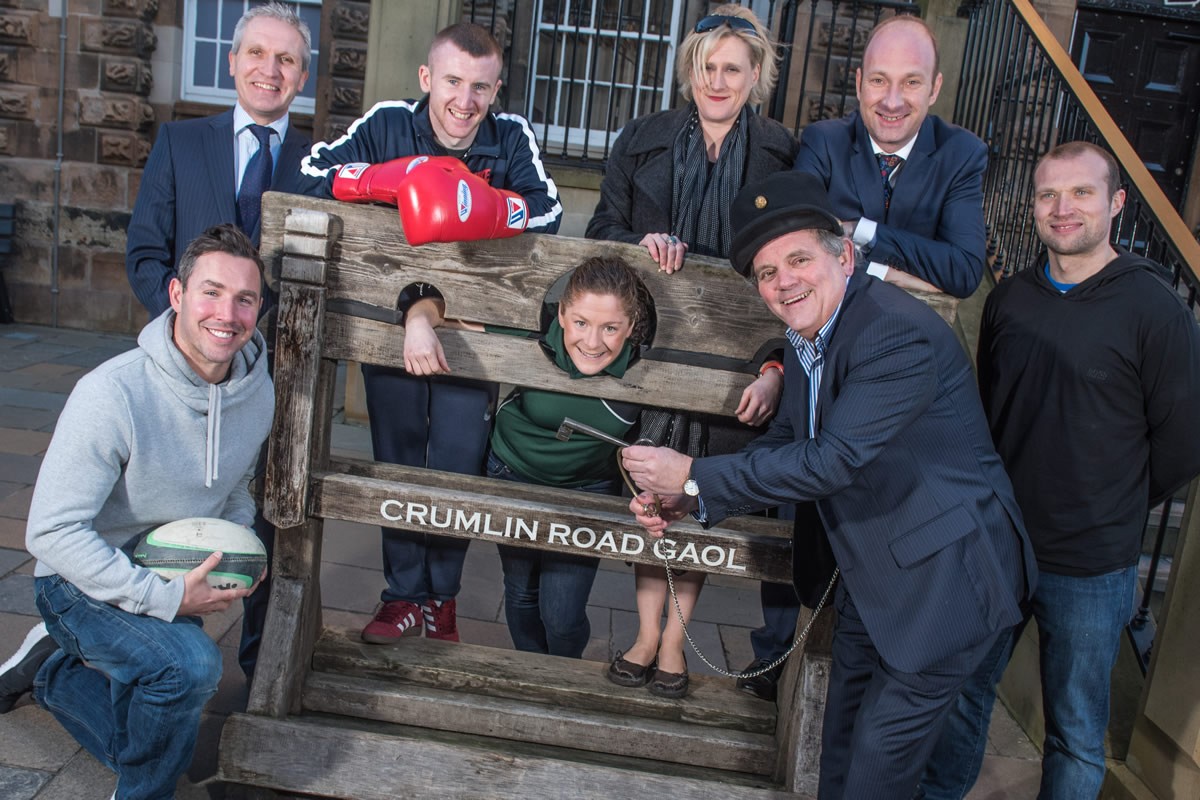 The event will be presented by Adrian Logan who will be aided by a bit of banter on the floor from Cool FM's Conor Phillips.
Tickets will be priced at £25 and will include a drinks reception on arrival, a hot buffet supper, music & dancing and an opportunity to meet with your favourite local sports celebrity.
Belfast boxer Paddy Barnes, recent recipient of an MBE spoke of his enthusiasm for the event:
Mental Health is a subject which affects many of us on a daily basis. This event will help to raise awareness so I'm well behind it, and I'm pretty sure we will have a bit of fun on the day with 'Logie' as presenter.
In addition, team captain, Stephen Watson from the BBC said:
CAUSE is a charity which I am always keen to support and mental health is an issue which is ever increasing, unfortunately. Furthermore, the level of support within the sporting community for this event demonstrates just how seriously we view this subject. I have no doubt the event will be a lot of fun so I would encourage people to get a ticket and get involved.
Founded in 1995 (and celebrating its 20th anniversary) , CAUSE is a unique peer-led regional charity offering services to families, partners and friends across Northern Ireland caring for a loved one who has experienced a serious mental illness. CAUSE is run by carers for carers which gives the organisation a true peer-led ethos and belief in the power of connecting with other people who have shared similar experiences of caring. This event will be an opportunity for the charity to raise public awareness for mental illness in Northern Ireland whilst showcasing some of our greatest local sporting talent.
Maire Grattan, Chief Executive of CAUSE added:
We really are thrilled to have such a star studded line up for our Question of Sport event. The event promises to be a lot of fun but there is a very serious message behind the event and that is the awareness raising for so many people in Northern Ireland who live with mental illness.
The event is being sponsored by Tughans Solicitors and Maire was keen to praise their input:
We are delighted that Tughans Solicitors have offered to sponsor the event. Their support is sure to make this an evening to remember.
Finally, Sport NI Chief Executive Antoinette McKeown was keen to pledge the support of her organisation for this prestigious event:
Positive mental health and well-being is a vital component and characteristic of successful sports men and women and sporting communities throughout Northern Ireland, providing training and resources to our clubs, organisations and volunteers.
Sport NI recognises the importance of the role of sport and carers; friends, family, partners, in helping their loved ones recover from a mental illness. This is why Sport NI is collaborating with the Public Health Agency and Sporting Chance to provide training and resources to our clubs, organisations and volunteers. Relationships within sporting clubs are similar to those within the family network, everyone is there to support each other. It is vitally important for everyone to know that they have such a huge network of support around them. Sport NI is delighted to endorse the work of CAUSE and this very worthwhile event and we are delighted that our Sporting Ambassador Paddy Barnes is taking part.
To purchase tickets or to seek further information on the event – please contact the CAUSE Office on (028) 9065 0650 or email tanya@cause.org.uk
For further information contact John McManus on 075 1554 1242