PARTNER PROMOTION AT TUGHANS
We are delighted to announce that Patricia Rooney has been promoted to partner within our employment team.
Patricia has over twenty years' experience in employment law and has been a director with Tughans since 2010.  She is dual-qualified in Northern Ireland and the Republic of Ireland and regularly appears on behalf of clients in the Labour Court and the Workplace Relations Commission in Dublin.
Named a 'Star Associate' in Chambers UK, Patricia has worked on some of the largest corporate transactions in Northern Ireland, including the £80m Delta Print and Packaging sale to Huhtamaki and the Fusion Antibodies listing on the London Stock Exchange (AIM).  She regularly works with venture capital and private equity firms undertaking funding into companies across the island of Ireland.
Joining Patricia, Anna Beggan (Head of Department) and Rachel Richardson (Director) in the employment team will be newly qualified solicitor Jack Balmer.  A graduate of Queen's University Belfast, Jack completed his Institute of Legal Studies qualification through Tughans and has been appointed as an Associate Solicitor.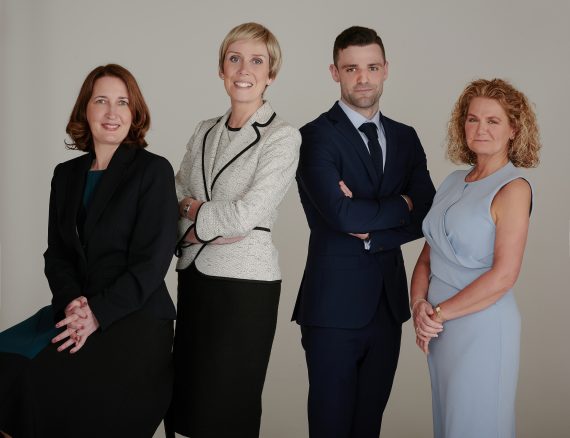 L-R:  Rachel Richardson, Anna Beggan, Jack Balmer and Patricia Rooney.
Anna Beggan, Partner and Head of Employment, said, "I am delighted to welcome Patricia into the Tughans' partnership.  We are constantly developing our employment offering to meet the ever-changing needs of our wide range of clients.  The law is continually evolving so we need to ensure we stay ahead of the curve when it comes to the delivery of legal services.  One big selling point for the employment team at Tughans is our full UK and Ireland jurisdiction offering, which fully enables us to service our clients' needs in the most cost-effective manner across all jurisdictions.   Jack is also a welcome addition bringing increased depth to our experienced team.  He has already shown exceptional skill in handling sensitive matters and in developing client relationships."
Tughans' employment team is one of the most experienced in Northern Ireland covering all aspects of employment law, both contentious and non-contentious.  The team has represented clients before the Employment Tribunals in the UK, the Northern Ireland Court of Appeal and the Labour Court in Dublin.