Titanic Belfast win top RICS Award sponsored by Tughans
The prizes were presented at a lunchtime ceremony in Riddel Hall, Belfast – the home of Queen's University Management School, and a former RICS NI Award winner – where the very best of 28 shortlisted entries were awarded for 'Community Benefit', 'Regeneration'; 'Design & Innovation'; and 'Building Conservation'.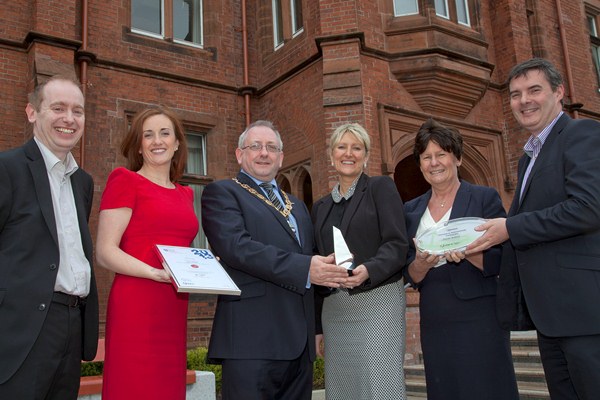 Sponsored by Tughans (Design & Innovation), the Department of the Environment (DoE) (Community Benefit), and the Department for Social Development (DSD) (Regeneration), the awards attracted a wide variety of entries from across Northern Ireland, ranging from a 19th century former jail to a 21st century hospital.
Judges, who selected the "remarkable" Skainos Project as the coveted Project of the Year recipient from the four category winners, said that it was a buzzing centre of community activity and has a striking design with impeccable sustainability credentials.
Winners
Project of the Year – Skainos Project
Community Benefit Winner – Skainos Project
Community Benefit Highly Commended – Belfast South Methodist Church
Community Benefit Commended – South West Acute Hospital
Building Conservation Winner – First Derry & Claremont Presbyterian Church
Building Conservation Highly Commended – Crumlin Road Goal
Building Conservation Commended – Church of the Most Holy Redeemer, Clonard
Design & Innovation Winner – Titanic Belfast
Design & Innovation Highly Commended – Giant's Causeway Visitors Centre
Design & Innovation Commended – Translink Maintenance Depot
Regeneration Winner – Peace Bridge
Regeneration Highly Commended – Skainos Project
Regeneration Commended – Belfast Metropolitan College, Springvale
Awards judging chairman, Alastair Dunn, said:
Skainos is a project with so many impressive ingredients, from its design that integrates so well and includes the wow factor of its 'living wall' fronting the main road, to its cross community nature and its sustainability credentials. It is a remarkable project and we are delighted to have it as Project of the Year.
RICS Northern Ireland Director, Ben Collins, praised all of the winners and entrants:
The RICS Northern Ireland Awards continue to go from strength-to-strength as a premier showcase of the very best work by property and construction professionals. Judges often talk about projects having the 'wow factor' and there was plenty of that amongst this year's entrants. Northern Ireland has always done very well in the RICS Awards Grand Final and we are confident that this year's winners will again represent us extremely well.
The four category winners will be invited to represent Northern Ireland against projects from across the UK and internationally in the overall RICS Awards later this year. In 2012, The Belfast Streets Ahead Scheme was the Regeneration winner at the RICS Awards Grand Final in The Savoy, London.
Further information about the RICS Awards is available here.
Darragh Coleman, Todd Architects; Claire Bradshaw, Titanic Belfast; Michael Hannaway, Chairman RICS NI; Judith Owens, Titanic Belfast; Phyllis Agnew, Senior Partner, Head of Real Estate, Tughans; Paul Crowe, Todd Architects.