Top Buildings Sought For RICS Awards
Pictured at Queen's Sport, Upper Malone – a previous winner of the RICS NI Awards – is Susan Mason of RICS NI, with Phyllis Agnew, Senior Partner and Head of Real Estate, and Michael McCord, Head of Commercial Litigation & Construction at Tughans.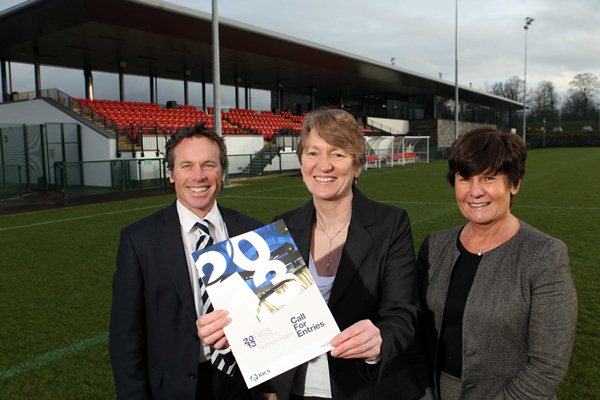 The hunt for Northern Ireland's most remarkable developments in land, property and construction is coming to a head and Tughans are delighted to be sponsoring the hotly contested Design & Innovation category.
The RICS (Royal Institution of Chartered Surveyors) Northern Ireland Awards will present accolades for Community Benefit, Building Conservation, Regeneration and Design & Innovation.
Entries can be made until the 25th January, and the Northern Ireland winners will be announced at an awards ceremony in Riddell Hall, Queen's University Belfast on 10th May.
In addition to winners and commended projects in the four categories, the RICS Northern Ireland Awards will also name an overall project of the year.
The scheme is open to anyone working within the property profession, and will celebrate the talents of surveyors, developers, engineers, planners, architects and others.
Phyllis Agnew, Senior Partner and Head of Real Estate from Tughans encouraged property and construction professionals to enter their excellent projects: "As a leading provider of legal services in construction, real estate, and planning, we see at first-hand the calibre of Northern Ireland's property and construction professionals and their work. These are difficult times for property and construction as a whole and we think it is therefore more important than ever to highlight the good work that is being done. We are delighted to be involved with the awards and look forward to seeing who the winners are in May."
Further information about the awards is available from: www.rics.org/awards