Tughans and Evans Team Up for Solid Sports Offering
Tughans has linked up with football coach and sports management expert Jackie Evans, who will act as a Sports Consultant to the sports law department of the firm. Jackie is a very experienced Academy Coach at a major Premier League Club, has a BA in Sports Management and draws on a lifetime of experiences in football. His sons Jonathan and Corry Evans are both current Northern Ireland internationals.
Tughans Sports relationship with Jackie will allow them to be able to provide a service to their clients, that is arguably unrivalled in its field domestically. The service will provide an enviable mix of sound legal and corporate advice combined with Jackie's expertise over the years as a top – level professional coach. Jackie can also draw upon his experiences as he has guided his two sons through the maelstrom that is the modern professional game today.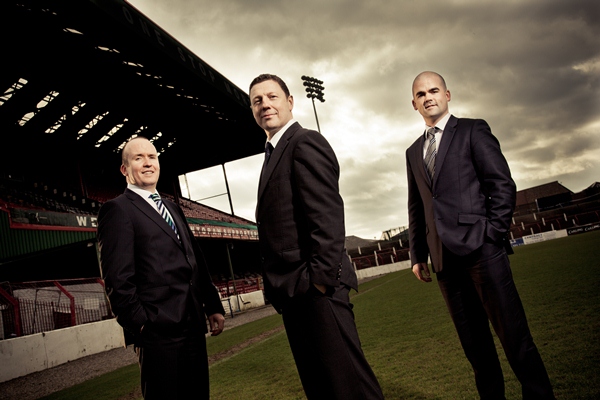 Professional sports people these days really do need the best legal and commercial advice available, and more importantly, from someone they can trust. That advice is needed right from the first Academy contract through to the peak of their playing careers and beyond. They also need nurturing and support through what can be an emotional and psychological rollercoaster. The importance of pastoral care and sensitivity to a player's needs should not be underestimated – I believe their welfare is paramount. Football is not purely about ability, but having the mentality to deal with the pressures that come with it, both on and off the pitch." said Jackie. "Our aim will be to help support sportspeople throughout their careers, whether they are successful at the top level or not. Too many are forgotten about when things don't quite go according to plan.
Jackie will be joining John Turley and David McDonnell in an advisory capacity in the sports law team at Tughans.
Jackie says:
I'm delighted to be teaming up with Tughans. Both John and David have a lot to offer. They have fantastic work ethics and possess great knowledge and understanding of people and what they need. They are backed by a firm with over 100 years of history which places clients and their needs at the forefront of their ethos, something which has impressed me greatly.
John, who heads up the team, says:
We can offer our professional sporting clients specialist legal advice on a wide range of issues. These range from contract negotiations through to protection of image rights, from reputation management and helping maximize personal endorsements to advising on disciplinary issues. Given that playing careers in sport are often short, players who engage professional advisors from the outset give themselves the best opportunity to maximise their potential both on and off the field.
John and David can call on a comprehensive range of commercial legal advice in other practice areas within the team of lawyers at Tughans as and when it is required. "The regulatory environment in which we as lawyers operate should provide our clients with any reassurance required that their personal affairs will be protected. Our domestic and international business links should then be able to add significant value for clients in the commercial world" says David.
Jim Grattan, who is the Child and Player Welfare Manager at the Irish Football Association said:
I think this is an ideal partnership as both Jackie's knowledge of the professional game together with Tughans' legal expertise will provide a comprehensive service to footballers. From the onset, the welfare of all young professional players must take precedence and they should be issued with advice and guidance that supports this. Having known Jackie for a long time, and his ethos on how young players should be developed both on and off the pitch, I am confident his guidance will give young players a better opportunity to succeed in such a competitive environment.
For further information, please contact John Turley by telephone on 028 9055 3343 or email john.turley@tughans.com