Tughans lands Deal of the Year Award
Pictured are John McGuckian, Director in Tughans corporate team with Gavin Williamson, Seven Technologies and Richard Moorehead, HNH Partners with the award for "Deal of the Year".
The award judges singled out the investment by YFM Equity Partners in Northern Ireland-based Seven Technologies for the top accolade. The £6.6 million investment was one of the highest secured by a Northern Irish company in 2012.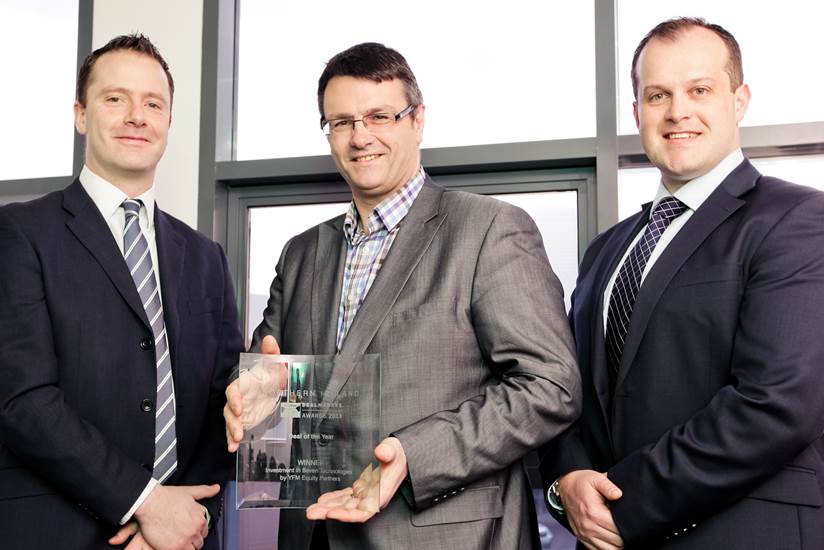 We are very proud to have advised Seven Technologies on this very significant investment.
says John McGuckian, Director in Tughans' Corporate Team.
We hope it is the first of many such investments in Northern Ireland by YFM Equity Partners together with similar institutional/other investors from within the UK and further afield. We are also delighted that we advised on three of the six deals shortlisted for this award.
Since starting trading in 2005, Lisburn-based Seven Technologies has grown rapidly and now employs a team of 55 specialising in high-technology IT and scada solutions for use in extreme conditions, including particularly high and low temperatures. Many other local companies also benefit from sub-contract work .
We pride ourselves in forming mutually beneficial partnerships with key organisations on collaborative projects and shared research objectives. One such partnership is with two centres at Queen's University – the Centre for Secure Information Technologies and the Institute of Electronics, Communications and Information Technology.
says Seven Technologies' Chief Executive Officer, Gavin Williamson.
YFM Equity Partners is a great funding partner for our business. They understand our sector and have a strong track record in growing small British businesses. The funding will support our continued rapid growth and further investment in our highly regarded operational support teams.
Richard Moorehead of Horwood Neill Holmes believes that the Northern Ireland company has a bright future.
Seven Technologies has developed an international reputation for the quality and sophistication of its products. The investment by YFM will provide the platform for future growth, both domestically and overseas and it is extremely encouraging to see a local business secure funding from a GB-based private equity investor.
Insider's Northern Ireland Dealmakers Awards 2013 were presented in front of a 200-strong audience at Belfast's Europa Hotel. The evening was compered by BBC sports commentator Eddie Butler and raised funds for Mencap.
John-George Willis, head of corporate at Tughans commented:
We are proud to have advised Seven Technologies on this significant corporate finance deal, which we hope is the first of many investments for YFM Equity Partners in Northern Ireland. It is also gratifying to note that Tughans corporate team advised on three of the six deals shortlisted for this award, demonstrating the strength and depth of the advice provided by the team across both M&A and corporate finance transactions.