Tughans maintains top adviser ranking and adds top value position for 2016
Tughans, for the second year in a row, has topped the Experian Deal Review and Adviser League Table for the number of deals completed in Northern Ireland.  The report indicates that Tughans was the most active legal adviser in terms of volume for 2016 participating in over 30% of all Northern Ireland deals, and 38% more deals than the next placed legal adviser.  Northern Ireland's deal performance at 228 was up by 31% since 2015 and 105% better than 2014.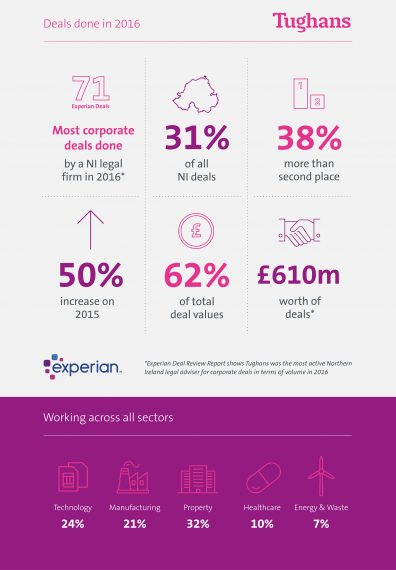 Experian reported that manufacturing was once again the most active industry with 69 transactions, a 35.3% increase over the previous year.  In second place was the wholesale and retail sector which saw deal volumes increase by 115% to 58, with financial services also seeing a substantial 238% increase to take the third spot on 44.
Tughans' submissions to Experian included a spread of transactions across multiple sectors including manufacturing, technology and energy, and multiple jurisdictions, such as the sale of indigenous tech company Sophia Search to Californian based Mixaroo, and the sale of Path XL to Phillips headquartered in Holland.   One notable exception in the Experian tally, due to the report's criteria, was the firm's work on the multi-million pound Randox Healthcare sponsorship with the Jockey Club, incorporating support for the Grand National.
Commenting on the success Patrick Brown, Managing Partner, said: "The last year has been strong for the firm having advised in 31% of all M&A transactions in Northern Ireland representing 62% of the total deal value and 38% more than the next ranked legal adviser.  The number of deals we completed has doubled from 2015, a positive sign that despite continuing uncertainty in the economy there is still significant activity and clients are placing their trust in us to deliver the high quality legal services required to support and execute their strategic plans."
"Although the headline making deals have come from the manufacturing sector – our largest Experian deal this year was the sale of local company Delta Print and Packaging to Huhtamaki for £80million – the deal volumes have been bolstered  by active technology  and real estate sectors and a marked increase in investment activity."
The report was carried out by the UK and Ireland division of global information services company Experian and the Northern Ireland League Tables form part of a detailed review of deal transactions in eleven UK regions and the Republic of Ireland.
To read the report in full, click here.