Tughans top Experian NI M&A league table
Experian Deal and Adviser M&A 1/2 year league tables have just been announced, with Tughans in top position in both the deal volume and deal value tables.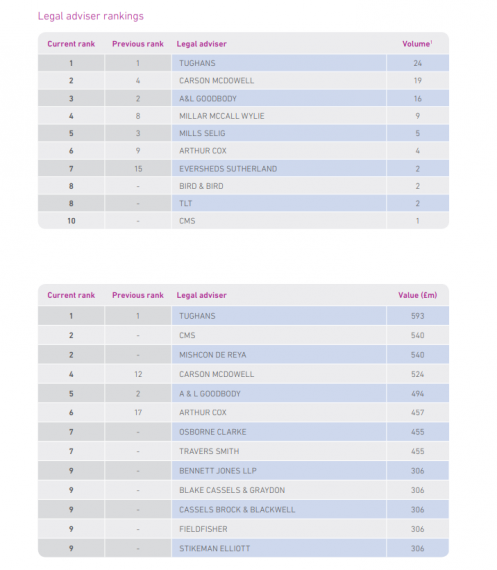 There were 80 deals announced in Northern Ireland during the first half of 2018, a 26.6% decline on the 109 transactions recorded during H1 2017 but still representing a respectable level of volume in the context of historic deal activity (the H1 average since 2009 is around 58 deals). Meanwhile the total value of transactions has soared so far this year, with several relatively high-value deals pushing the total to almost £1.7bn – the most valuable first half to a year in Northern Ireland on Experian MarketIQ record. Northern Ireland has provided 2.4% of all UK deals so far this year, while contributing 0.8% of their value. In H1 2017 there was a Northern Irish element in 2.9% of UK deals by volume, but just 0.07% by value.  Manufacturing continues to play a key role in Northern Ireland's deal landscape. Among the 24 deals announced during H1 –around 30% of total transaction volume – was the year's biggest transaction to date, Breedon Group's £455m takeover of certain assets of Belfast's Lagan Group in the construction materials segment.
Other deals in the manufacturing sector were on a smaller scale, including the £2m purchase of Maximus Crushing and Screening Ltd, a manufacturer of crushing equipment based in Dungannon, by Rubble Master UK, a subsidiary of Austrian firm HMH. Elsewhere, activity in the ever-fertile renewables space continued apace; deals here included specialist energy investor Greencoat's £163m acquisition of Brockaghboy Windfarm from Italian energy firm ERG Renew SpA, Cork-based Brookfield Renewables' £31m purchase of Antrim Wind Energy of Strabane and several purchases by Coleraine firm Myroe Energy. Belfast's Tughans pipped Carson McDowell to rank as Northern Ireland's busiest legal adviser for M&A, bagging a role on 24 transactions. Tughans also topped the value table with deals worth a total of £593m, ahead of CMS and Mishcon de Reya (both on £540m). Meanwhile EY led the financial adviser table in both volume and value, working on three Northern Irish deals in H1 worth a total of £460m.
Northern Irish companies were involved in 21 small deals in H1 2018, a 39% fall on the 36 small
deals announced during H1 2017. Total deal value in this segment was down 42% to £33m.
Activity was up in the mid-market; four medium-sized deal were announced, compared to two in H1 2017, and the total value of deals was up to £183m from just £47m.
Four large deals were announced in H1 2018, worth almost £1.5bn; in H1 2017 no large deals were recorded.
There were no £1bn plus deals announced in Northern Ireland during H1 2018.
Read the full report here.